Kahele and Kathy
August 21, 2010
Had a great ride yesterday along the El Dorado Trail -- folks walking, lots of bicycles, dogs. I was thinking that I've had my horse (Hiwa) for 2 1/2 years but had hardly ridden him on the trails until we got him back from you. We're out riding 3 times a week now and doing great -- I feel confident on Hiwa and Kahele's horse (Kila) is doing great whether in the lead or going second -- seems like he just needed more regular time out to settle down and the bit probably helps as well. Anyway -- just want to thank you again for helping us get over the hump with our horses.
It probably wouldn't be much of a money-maker for you but -- I think there is a need for what we have been calling: Trail Horse Boot Camp. Must be lots of folks like us who would benefit from sending their horses off to you for a while!
Hope to see you again in the future, Kathy and Kahele
Judy of Grass Valley, CA
June 26, 2009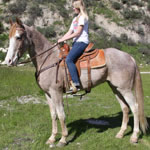 Hi All,
Just had to share these photos of my first trial ride on our barely 3 yr old horse, Biscuit. We rode for almost 4 hours up at Lone Grave. What a beautiful day and memorable ride. Can you tell that I am happy and shamelessly in LOVE???
Love,
Judy
Carol of CA
August 2, 2008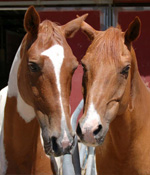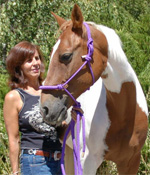 Chester is doing great....
He got a bath today...
I put my horse Zackary beside him for awhile, thought you'd like to see.
Chester has the greatest personality...
I love him! He is wonderful...
Thanks, Carol
Gary of Concord, CA
December 31, 2007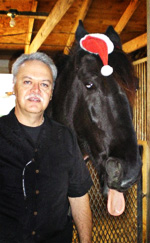 I have had Laddie for four months now and have had a great time on the trails of Mount Diablo with him. He has done everything I have asked him to do just as calmly and good-naturedly as can be. Everyone at the stable loves him. As a beginning rider, I feel very lucky to have had Terry to help me find such a solid, reliable horse.
Gary
Kathy of CA
June 19, 2007
Hi Terry,
This horse is fabulous! Truly, the best horse I've had. He is calm and sensible and has a great smooth gait. He bonded easily, works willing and loves to be out on the trail. He is very curious, always wanting to go down the trail we haven't been on.
I've had him about 10 months and he just keeps getting better and better. Thanks for all your time and patience. It took a while to find a match but he was sure worth the wait. You did a great job.
Kathy
Jerry of CA
June 5, 2007
Pictures are worth 1000 words! Jerry's daughter won some ribbons the first show she ever been to on a gaited pleasure horse from us.
Terry Zygalinski
Sheryl of CA
April 12, 2007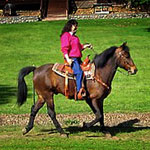 Howdy Terry!
Well, here's little "Romeo", all groomed, bathed, clipped & shaved! He's settling in just fine. As you know, one of the great loves of my life has been my (now-retired) old foundation-bred, 14.3 hand, gaited Morgan Horse, Beau. (Something that is NOT easily replaced!)
What are the odds that you'd come up with a 14.3 hand Morgan/Fox Trotter gelding, for me?!?!?! Between my $20,000 knee, screwed up back, sciatica, neck & shoulder (all from 40 years of breaking & training horses), finding a horse that I can ride comfortably is not easily accomplished!
Thanks, Terry. Your mission to fit horse to rider is inspiring!
Sheryl
Jeremy of Merced, CA
February 9, 2007
Terri, you are the man.
The only thing I hate about this horse is his name. Son of Dawn???? I changed his name to REX. He is the smoothest ride I've ever had. It took me 8 quarter horses, neck strains, back strains, contusions, sprains, and everything else. REX is the gentle giant I was looking for. You matched me spot on. He is everything I wanted.
Thank you Thank You Thank You Thank You Thank You
Gian of San Martin, CA
March 17, 2005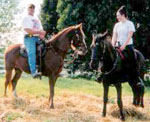 I started trail riding Quarter Horses at the ripe young age of 42. I'm 48 now and just found out last year what the good Lord intended a horse to look, act and ride like when I rode my first Tennessee Walking Horse.

Terry knows how to find and match a horse to your experience level as well as your personality and in my case, SIZE. At 6' 2" and 250 lbs., I looked a little silly on a 15.2H Quarter Horse. Terry matched me up with a nice big, but smooth TWH. Rock is a mountain, he's all horse. He's gentle as a puppy and rides like a dream. I have had so much fun trial riding with him that I just picked up my second TWH. Willie (Mays) is another big young enthusiastic and well mannered walker. Perfect as a second horse for me on those long weekend trail rides and camp outs when you need two horses. He's also a great ride for my 17 year old daughter when she decides she wants to hang out with dad.

I can't tell you how much fun I'm having with these horses and what a pleasure it is dealing with such a professional like Terry. I still drive over to Terry's AT LEAST once a month just to see the new horses he gets in. My wife is starting to worry, she asks, "How many horses can you ride at one time anyway?"

You gotta meet Terry and ride these horses, you don't know what your missing.

Thanks Terry! See in a week or so!
Robin of Hollister, CA
July 20, 2004 & Update March 3, 2005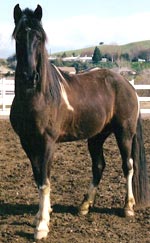 Above:
" Ace's Midnight Ride"
or better known as, "Ta'Tonka"
(My Tonka Toy)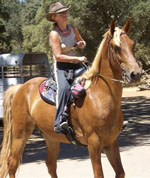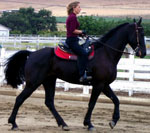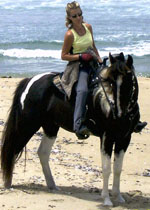 Update March 3, 2005
Thank you Terry for another perfect horse. I also need to thank you for the extremely reasonable price that I paid for him. Tonka is a big dynamic horse, with smooth yet fast gaits, and he has a kind heart, and an excellent mind for such a young horse.
I am well aware that I would have had to pay almost twice as much for a horse such as Tonka Toy had I gone looking anywhere else but to you to buy. Like a lot of your customers, I will never buy a horse from anyone but you because of your honesty and integrety and because at the 10 stall barn where I board my guys, there are 6 perfect Gaited Pleasure Horses (MoJo, Tonka, Cash, Troy, Voodoo and Sundance) and each one of them came from you.
Thanks Terry for all that you are, and all that you do!
July 20, 2004
I spent most of this day over at Terry's place checking out the 6 or 7, new Tennessee Walkers, and Missouri Foxtrotters that he brought home with him recently.
Congratulations! Way to go Terry—you have provided truly magnificent choices with this bunch of horses.
Terry is so busy showing the horses to new, and many repeat customers, many of these horses are sold before he is able to get photos done.
Over the course of this last year-and-half, I've visited Terry's on at least three different occasions. When I returned home, I was taking another great horse home with me. None had the chance to have their photos done.
Thanks Terry for your patience and time, for sharing your knowledge, and for these wonderful ponies—you know what they mean to me.
Here are photos of my spectacular horses purchased from Terry: Apollo, MoJo and Blue Smoke.
tdnranch writes:
March 31, 2004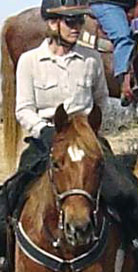 Buying a horse used to be similar to buying a car—until I met Terry! He is honest, caring and actually spent time with me on the phone trying to understand just what I was looking for in a horse.

He didn't try to sell me something he already had just to make a sale, but found several prospects to try out. My huband and I spent the weekend "test driving" them. Terry made us feel like family and best of all I found "the" horse.

"Reno" is a four year old Foxtrotter and is everything I was looking for.

Thank you, Terry!
Cynthia & Robb from Carmel Valley, CA
February 7, 2004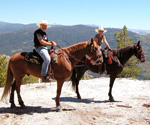 Robb & Cynthia Talbott
on Memphis and Ducat
in the Sierras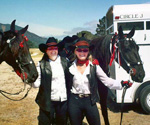 Jeanne Steele & Cynthia Talbott with Walker and Ducati
at the Fiesta Parade

We have purchased 5 Tennessee Walkers from Terry in the past year, and could not be happier. After owning almost every breed of horse in the world, these Walkers compare to none! Affectionate, dream gaits, healthy and sound, we have taken them camping and on rides all over the state. Beaches, mountains, rivers, state parks, riding in all kinds of weather and conditions, they are perfect horses.

My husband has a bad back, and could not ride our quarter horses anymore. After researching gaited horses, I was elated to find Terry here in Monterey County, and the very next day we purchased the first of many horses from him. The beginning of a wonderful whole new life style!

Terry stands behind every horse he sells, he will search for the right horse for you, and if one does not work out he finds one that does. Terry has a flock of followers, and he finds amazing horses from all over the nation. He has introduced us to all kinds of horse lovers, and has become a good friend as well.

P.S. Tiger and Jeanne Steele of Carmel Valley have purchased 9 Tennessee Walkers from Terry in the past 4 years!

Terry from Palo Alto, CA
December 28, 2003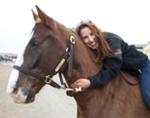 For over a year now I've had my walker, "Sunday" and we have had many great adventures.
Everyone loves him and a lady at my ranch was a little jealous when she saw my horse that I purchased from Terry and I simply said "I scored big time from Terry!" She has a fabulous walker she bought from Terry as well.
"Sunday" is truly the most special of all horses; he is a charmer to both man and beast.
Sue from CA
November 7, 2003
I just bought the horse of my dreams. He is so beautiful that people stop on the road just to admire his beauty. This is my third horse that I have bought from Terry and I have always trusted his honesty and integrity. I thank him from the bottom of my heart for putting up with me and giving to me a dream of a horse, and a real cute puppy.

Your Friend, Sue
Cheryl from CA
November 3, 2003
Just wanted to write and tell you how much I LOVE my horse. I've had him 2 months now and he is wonderful. The folks were I board are impressed with him too. They are surprised to find out he is only three. He is the best behaved horse at the stable.
He is great on the trail, ready to go anywhere I point his nose. He stands quietly for the farrier, loads easily into the trailer and crosses any obstacle we encounter on the trail. Sometimes I just like to stand next to him and wrap my arms around his neck and give him a big hug. He is the perfect horse for me.
Thank you for matching us up.
Nancy from Hayward, CA
September 30, 2003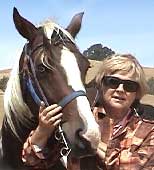 I was a very timid rider recovering from a horse accident and full of fears. I needed to find a gaited horse that was very slow and easy. I was so lucky to find one through Terry. He had a horse no one else wanted because he was too slow. Terry told me "I guess there's a horse for everyone".
I renamed him "Decaffe" (low energy). We have a wonderful relationship. He is perfect for me! We go on long leisurely rides out on the trails. He is calm and curious rather than fearful and spooky.
Thank you so much, Terry.
Robin of Hollister, CA
February 27, 2003
Terry,
You're an absolute doll. But let me tell you what, "MoJo Rising" is the man (horse)!!! He's perfect for me and as you know I LOVE my horse. MoJo had my heart from the get go and you made the deal (and the dream) happen for me.
I am in your debt, forever and ever amen.
Thank you Terry for the best little horse this side of Tennessee.
Cathline of Tracy, CA
February 13, 2003
I have bought 3 horses from Terry in less than 2 years. He has made, what to me is a major purchase, so easy. He really knows how to make the right match between you and your horse.
When I bought my first horse (Zack) I asked Terry if I were to spend more money, did he have another horse that would suite me better? To my surprise and pleasure he said no, I knew he wasn't just trying to make a sale after that.
I have had three different horses and I have never had any surprises. He really tells you about the horse as far as health issues go, my vet has never said anything to the contrary. When you buy a car they always put so much enfaces on the "after purchase" service that you will receive.
Terry's "after purchase" service is wonderful. I've called him with questions and he's always been there to help, even if he's on horseback in the middle of nowhere. He never makes you feel like you are bothering him or that your questions are stupid. Needless to say I have been very happy with my boys, Zack, Sam and Buster.
It is true when they say if you ride a gaited horse you won't ride anything else again.
Thank you so much Terry!
Diana of San Martin, CA
July 8, 2002
I can't find anything wrong with the horse I bought from you. He's relaxed, friendly, easy to catch, easy to load, stands for the mount and dismount. He's been a real pleasure!

Oh yes, I remember now...I was off and walking him down the hill at Mount Madonna (I have to get some exercise too), and when we reached a nice soft sandy patch he stopped. I thought he had to take a leak. Instead he dropped like a rock to roll in the sand. I kind let him know I was not too pleased, and he jumped right back up before he rolled with my saddle.

I'm really enjoying him.
Thanks for suggesting him.
Lynn of New Mexico
June 20, 2002
We have purchased two horses from Terry and I have been really pleased with them. Prior to buying I had purchased two horses from Tennessee Walking horse farms and have been so disappointed.
I have had back surgery and it was either a smooth gaited horse or give up riding. Terry not only found TWO right horses, but also took both and exposed them to rivers, dogs, backpacks, school buses, other horses and some things I know I've forgotten. This exposure insures you the buyer, that you have a safe horse, besides a smooth ride. And if that is not enough insurance, you can return the horse if he doesn't live up to your expectations and try another.
I have in my barn my two best friends. I look forward to riding almost everyday, and have virtually no recovery time needed between rides!! I have found no one else that offers you such a great opportunity to link up with your new best friend!

Take Care,
Lynn
Del of Sebastopol, CA
2002
A picture is worth a thousand words...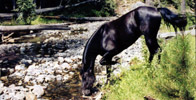 Sonny
Del
Trisha of Felton, CA
May 30, 2002
You're not gonna believe this, but I won first place in a cattle sorting competition on my horse, Splash, at the annual Las Estrellas Del Valle ride this month.
It was a great surprise to everyone, because none of the gals on my team had ever tried working cattle. Our sponsor took home $2,400 and the rest of the prize money went to the hospital foundation, and we each went home with a sterling belt buckle.
I was the cutter, and Splash did everything I asked him to do. Just thought you'd like to know... maybe it's true what they say, "You can do it all on a gaited horse!"
Trisha
Chris and Dale of Cupertino, CA
April 23, 2002
I thought you might like to see how my little horse has blossomed. But then you knew he would!
Chris and Dale
Brenda of Morgan Hill, CA
November 25, 2001
I waited 15 years to buy a horse because I "needed to lose some weight first". On my 40th birthday, I realized that that time would never come.
I started shopping around and ran into a woman at a stable that was very pleased with her horse that she bought from Terry. I called Terry and made an appointment to take a "test ride".
There's no test rides with Terry. Once your on, you're sold and that happened to me the same night!
I am the proud owner of a 5 yr old gelding TWH named Cotton. Our relationship just keeps getting better and better. In fact, I'm finally losing weight!
Thank you Terry for making a little girl's dream come true and proving that 'size doesn't matter. I believe that Terry can find a horse for anyone, no matter the age, size or abilities.
Now my husband is considering one!
Brendal
Richard of CA
September 4, 2001
I bought a horse from Terry to keep up with my boyfriend in field dog trials.
As a lifetime Quarter/Appaloosa/Arab cross owner, I was skeptical. Terry made the transition wonderful and easy.
My horse from Terry has won my heart. Every ride he does the funniest things. Beside the smooth, comfortable and fast ride his personality is outstanding. He also goes anywhere I ask him.
Once, when the flies were bothering him, I took a long twig with leaves and swished it back and forth across his head while riding him! He just ignored me, happy not to have flies.
Another time, riding in a park, there was no place to tie him to use the rest room so I took him in with me. There was no one around. He stopped in front of the mirror. He just stood there admiring himself in the mirror until I was ready to go.
We also tied the horses to the opposite side of a big picnic table, while we sat on the other side, We ate cinnamon rolls and drank bottled coffee. The next thing we know Zip has stretched his nose across to get his share of breakfast.
He is so pleasant when we go to the pasture to get him he runs to the gait. I wish every one interested in a horse finds the same joy that the horses Terry sells.
Keep up the good work. I hope for Terry the greatest success!
Richard
Jerry of Fremont, CA
July 24, 2001
I had just retired and wanted to fulfill a long time wish to own a horse, so I started investigating the different horse breeds.
I am a disabled veteran, so I wanted a smooth trail horse that would not bounce me all over the place. I decided on the smooth riding Tennessee Walking Horse. I found Terry's web site, received directions to his place in Watsonville, and found it without difficulty.
My first impression of Terry was a good one, I found him to be an honest and caring person who takes the time to match a rider up with the right horse.
I was new to riding, and told Terry right away. It didn't take him long to find out that I was not an experienced rider. LOL
Terry has taken me on numerous trail rides and has taught me a lot about riding and horsemanship. I consider myself very fortunate in finding such a nice person to purchase a horse from. Terry matched me up with Blaze, my Tennessee Walking Horse.
When I first saw Blaze I was not too excited because I made the mistake of putting color and flashy looks first. I have learned that this is a common mistake new riders make. Blaze gets better looking the more I ride him and get to know him. He is a fine match for me.
Terry does his best to make sure that the rider, and horse are safe for each other. FOR fair prices and good horses I strongly recommend Terry. I have made two friends since I bought my horse...Terry and Blaze.
Paulette of Livermore, CA
May 4, 2001
I was selling my "difficult" quarter horse and was ready to give up riding when I went to Terry's with a friend who was looking for a horse.
Since I had never ridden a gaited horse Terry encouraged me to hop on one. The smile never left my face. I was hooked!
I pretty much decided then and there that I was going to buy him. A week went by and I went to finalize the deal when Terry showed me another horse that he felt would be an even better match.
Guess what? He was right. I have to say that Terry sure has a knack for matching people with horses! I'm so grateful to Terry for keeping me from giving up riding.
I have had this horse for six months and I'm having the time of my life.
Thanx Terry...Paulette
Julia of San Jose, CA
April 21, 2001
Terry brought to me an exceptional chestnut, flaxen mane TWH in April.
I had never seen the gelding or ridden him, but he turned out to be the love of my life. I gave him the name Serafino, Italian for the seraphim angels.
I'm not sure why Terry chose to bring me this particular horse, but he knew for some reason that this could be the one for me.
Everyone at the stable where I keep him thinks he's beautiful, kind and intelligent.
I would recommend Terry for his insight.
Cheers, Julia
Alecia of Scotts Valley, CA
April 16, 2001

"Rhythm Of My Heart"
Last September Sabra and I stopped by Terry's to look at horses. As a novice rider I thought I was interested in an older, well-mannered TWH.
Terry allowed us to trail ride several horses. A perfect way for anyone to really experience a horse. What was supposed to be a day of just looking, quickly turned to a day of buying. By nightfall, I was headed home with a beautiful 4 year old gelding TWH.
Rhythm, aka "What a Strutter," is a true pleasure! Young and full of spirit, he's just what I needed. Terry and Sabra matched us perfectly! My thanks to Terry. His humor, style, and horse-sense makes it worth the experience.

Alecia - Co Founder CSTONE Inc.
http://www.cstone.com
Frank & Cindy of Aromas, CA
March 14, 2001

FINALLY! The right horse!
After purchasing several non-gaited trail horses elsewhere, I have found the right horse. "Luke" is an incredible calm four-year old Tennessee Walking Horse. Now I can keep up with my wife and her "walker"!
Terry has several horses to choose from. Buying a horse from Terry was a pleasant experience. His business integrity and horse knowledge is unsurpassed. Terry went the extra mile to be certain I would be satisfied with Luke. This included two mountain and one beach ride before I made my decision on which horse to purchase.
It is also very convenient that tack can also be purchased through Terry at a great price. I would recommend Terry to anyone looking for a great gaited pleasure horse.
Frank & Cindy
Connie Jo – Double C Kennels – of Tracy, CA
February 28, 2001
My name is Connie and I purchased a Tennessee Walker from Terry about 3 years ago. Terry picked him for me and he did an awesome job matching us. His name is Buddy (because he is) and he has been a blessing to me.
I ride him in a lot of field trials and he has always been a gentleman. He is a smooth gaited horse and a pleasure to ride. He doesn't spook of anything...and goes through water, over logs...wherever I need him to go...he goes.
Thanks Terry!
You are awesome!