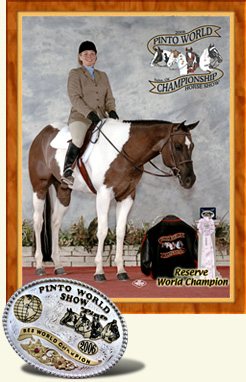 Painted On Lukes
Reserve PtHA World Champion
Hunter Type Geldings
Rhonda Heiner has been riding since age three and competing since she was eight. By age twelve the emphasis was on dressage and pony club.
Her interest continued to grow towards stock horse breeds in Reining and Western events. Soon she was turning her stock horses into All-Around horses that could compete in all events from English Pleasure, Jumping to Western Pleasure and Trail.
Rhonda is an accomplished rider who has over twenty years of experience in APHA, AQHA, and PtHA, both as an exhibitor and a trainer. She has trained and competed with APHA '95, Top-10-Stallion "Rhinestone Reprint" in halter. Rhonda continued training with "Rhinestone Reprint," and when he was 9 years old, competed in English and Western events. "Rhinestone Reprint" earned points in WA Bred Western Pleasure and English Pleasure as well as PtHA English and Western events.
Since arriving in California Rhonda has trained Reserve World Champions, Canadian National Champions and numerous World Show Top 5 and Top 10 Finalists in Halter as well as the riding events.
Artfully Zipped


Multiple top 10's at the PtHA World Show, numerous circuit champions and daily highpoints, APHA PAC Top 5
To round out Rhonda's experience as a trainer she also provides stallion breeding management, stallion collection, shipping and artificial insemination as well as foal monitoring and delivery.
Rhonda Heiner Performance Horses is located at the Big Oak Ranch in Morgan Hill.